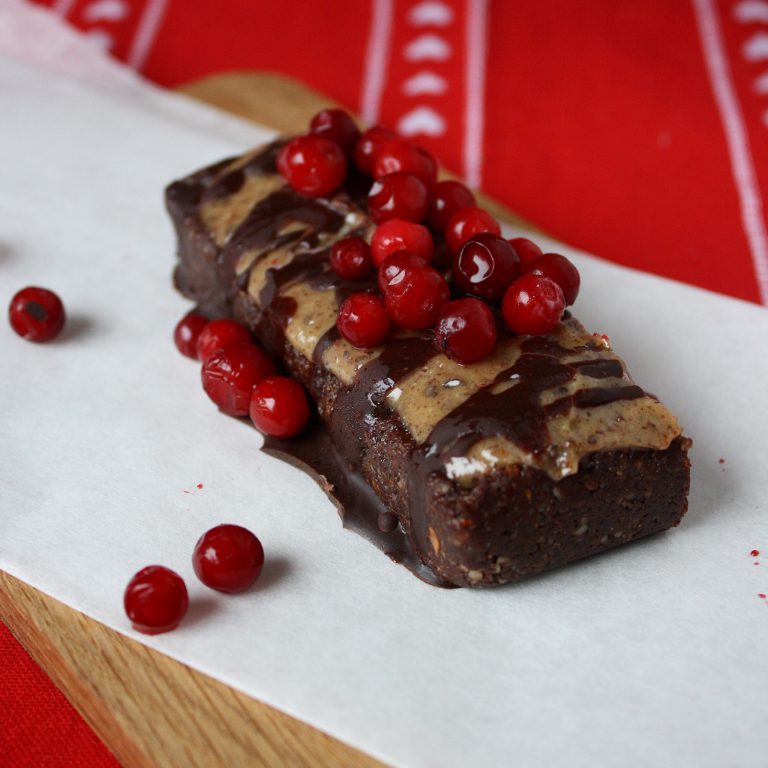 Chocolate is always a winner and this Brownie with Fudge is from another world. And healthy, almost too good to be true.
1. BROWNIE BOTTOM
1,5 dl walnuts
1,5 dl almond
1,5 Tbsp Honey
0,5 dl + 1 Tbsp cacao
2 tsp ground cinnamon
2 tsp ginger powder (optional)
2 tsp cardamom
0,5 tsp vanilla powder
Pinch of salt
Run all the ingredients for the brownie bottom in a food processor until you reach a dough like consistency. Press the dough into a form or onto baking paper, place cold.
2. CARAMEL FUDGE
4-5 pitted dates
1 Tbsp almond butter
1 pinch of vanilla powder
1/2 Tbsp lemon juice
1 Tbsp + 1 tsp water
Mix all the ingredients in a food processor to a soft and spreadable consistency, possibly adding a bit water. Spread the fudge on the brownie bottom and place in cold again.
3. CHOCOLATE TOPPING
1 Tbsp cacao butter
1 Tbsp cacao powder
1–2 tsp honey
Pinch of salt
Finally, you melt the cacao butter and the honey in a water bath and whisk down the cacao powder and salt. Ripple the topping on top of the brownie.
Decorate with lingon berry or any other berry suitable with chocolate taste.